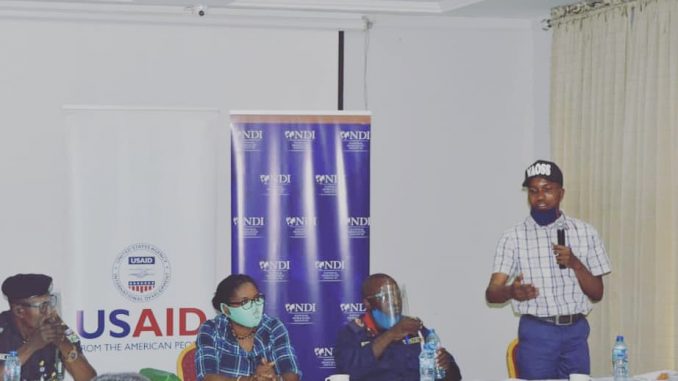 Comr. Kikiowo Ayoade was present as a Panel Member at the "Vote Not Fight advocacy training" organised by the Pacesetters and supported by National Democratic Institute (NDI) and the United State Agency for International Development (USAID)
The NAOSS president contributed on the triggers of electoral violence citing traditional political beliefs that elections cannot be free and fair in Nigeria, amongst other factors as the major cause.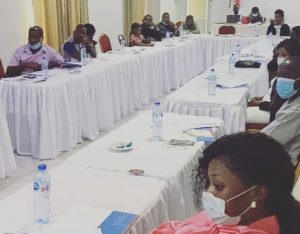 While engaging the audience, he narrated how people already have the established mindset that the democratic system is buyable and widespread poverty has made it sellable
He also made it known that his association has collaborated with NANS Ondo JCC to inform the quality and quantity of the youth votes through "Conversation Ondo"
A project that will engage major stakeholders and candidates from all political parties in the Ondo Gubernatorial election and make public their positions, ideas and politics to the youth demography.
In his remarks, He called on Ondo youth and students to embrace peace and shun violence throughout the electoral cycle. This is the time to say NO to politicians and moneybags who manipulate young people by dangling irresistible baits for the youths to undertake electoral violence when their children are abroad. This is the time to wise up.
"I implore the Independent National Electoral Commission (INEC), security agencies, political parties and candidates in the 2020 governorship election to play by the rules, uphold electoral integrity and forestall violence. The political class must shun violence as a tool."
He applauded the fluency of the Vote Not Fight campaign citing that it's voice was beyond relevant to assure a violence free election in the state.
Also in attendance at the event was , Dr Rufus Akeju, Resident Electoral Commissioner, INEC, Ondo State; Jonathan Obatola, Executive Director, The Pacesetters; Mr Phillip Ayuba, Ondo State Commandant, NSCDC and the Commisioner of Police ably represented by the State PPRO.