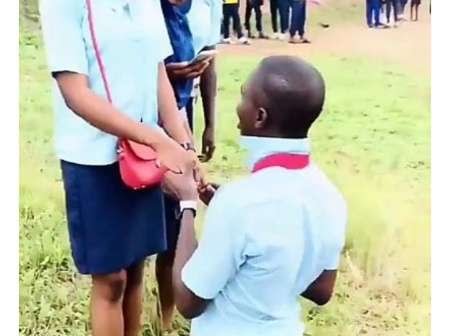 SS3 student proposes to his girlfriend after the west African examination council and she said yes.
With the just concluded west African examination council examination, an ss3 student proposes to his girlfriend on the field of their school .
According to eye witnesses , immediately they just finished writing their last paper , all celebrated together in their school and all where leaving the school premises . The girl in question was walking with her friends when the lover guy came from the back and kneel before her , they thought it was a joke until the lover boy now brought out his ring and ask his girlfriend to married him , and without any hesitation immediately the girl said yes .
Then the guy engage her, get up and they happily hugged each other. .
This is one of its type in the country where we see SS3 students engaging themselves after their final exams without hiding .
The big question is what will the future hold for them ? Is it not too early for them
Drop your comment in the comment box