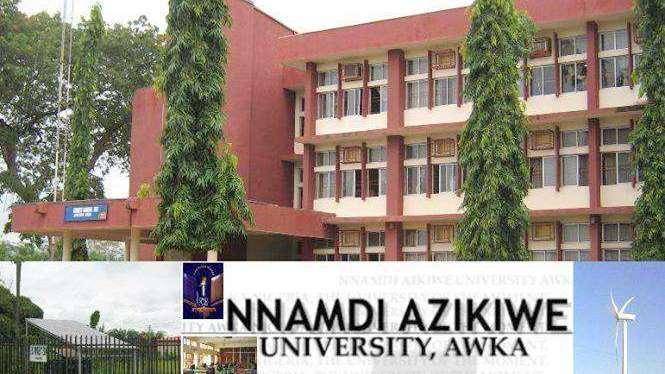 Applications are hereby invited from suitably qualified candidates for admissions into the Nnamdi Azikiwe University (UNIZIK), Awka, pre-degree programme for the 2020/2021 academic session.
Candidates Eligible to Apply for UNIZIK Pre-Science Admission.
Candidates intending to apply must register for the 2021 Joint Admission and Matriculation Board (JAMB) examination.
The minimum academic qualification is five O' Level credits which will include English, Mathematics and any other three relevant science subjects in SSCE, NECO, GCE and NABTEB at not more than two sittings. The candidate must also satisfy the basic O'Level requirements for the department into which he or she is seeking admission. For example where Chemistry is a basic requirement as in the case of Medicine the candidate must satisfy that requirement at O'Level.
UNIZIK Pre-Degree Courses.
The Pre-Science Programme is only for candidates who are interested in the following Faculties/ Departments
i. FACULTY OF AGRICULTURE
a. Department of Agricultural Economics
b. Department of Animal Science and Technology
c. Department of Crop Science and Horticulture
d. Department of Fisheries and Aquaculture
e. Department of Food Science and Technology
f. Department of Forestry and Wild Life Management
g. Department of Soil Science and Land Resources management
ii. FACULTY OF BASIC MEDICAL SCIENCES
a. Department of Anatomy
b. Department of Human Physiology
c. Department of Human Biochemistry
iii. FACULTY OF BIO-SCIENCES
a. Department of Applied Microbiology and Brewing
b. Department of Applied Biochemistry
c. Department of Botany
d. Department of Parasitiology and Entomology
e. Department of Zoology
iv. FACULTY OF EDUCATION
a. Department of Science Education with option in
1. Science Education/Biology
2. Science Education/Chemistry
3. Science Education/Computer Science
4. Science Education/Integrated Science
5. Science Education/Physic
b. Department of Technical Education with options in
1. Electrical and Electronics Technology
2. Mechanical and Automobile Technology
3. Wood work and Building Technology
v. FACULTY OF ENGINEERING AND TECHNOLOGY
a. Department of Agriculture and Bioresources Engineering
b. Department of Chemical Engineering
c. Department of Civil Engineering
d. Department of Electrical Engineering
e. Department of Electronics and Computer Engineering
f. Department of Industrial and Production Engineering
g. Department of Mechanical Engineering
h. Department of Metallurgical/Material Engineering
i. Department of Polymer and Textile Engineering