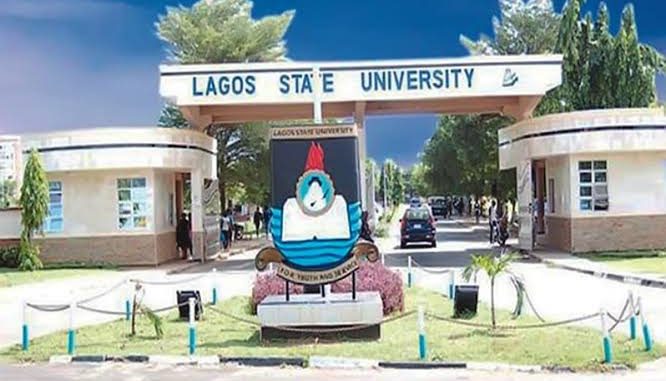 AN OPEN LETTER TO PROF. OLANREWAJU ADIGUN FAGBOHUN (SAN), NPOM.
THE VICE CHANCELLOR, LAGOS STATE UNIVERSITY
RE: RESUMPTION OF STUDENTS IN BATCHES
Dear Sir,
It's our great pleasure to sincerely appreciate our world class Vice-Chancellor for his immense contributions and modification of our great citadel of learning. Right from his emergence as the Vice-chancellor of this great university, our Vice-Chancellor has been a man of unflinching love and support for the students populace and also the Lasu community. A man whose heart is aimed at glorifying Lagos State University globally and making our great citadel of learning the most preferred university in the world which he triumphantly accomplished with his highly distinguished management team within 5years of Service and turning Lagos State University to what we're all proud of today!
Recently, Lagos State University was ranked the 2nd Best University in Nigeria in the New Times Higher Education Ranking. Silver and Gold have not done this: it is the reward of our collective effort, galvanized by the genius of a world-class Vice Chancellor, Prof. Olanrewaju Adigun Fagbohun, SAN, NPOM.
In lieu to our achievements and recent ranking as the second best university in Nigeria, we plead to our ever listening and considerate Vice-chancellor to consider a review in the mode of resumption as earlier announced.
As concerned Lasuites, we deemed it fit to write,plead and also to project our suggestion and a possible mode that can be used in resumption rather than as earlier announced which also will be in accordance to the social distancing guide as directed by the NCDC.
We understand the harm of this deadly virus and we know the university has put in place a lot of facilities and human factor in order to aid a suitable resumption. Therefore, we suggest a scheduled of resumption as detailed below:
100 Level- Monday and Wednesday (9am-3pm)
200/300Level – Tuesday and Thursday (9am-3pm)
400/500/600 Level- Friday and Saturday (9am-3pm)
We hope this proposed schedule will aid the academic calendar,adhere to the social distancing and also help to save the work load of our lecturers. We know this pandemic is something we must live with and our collective effort as a unanimous community will definitely fight this virus and we shall overcome it.
With high regard we want to say a very BIG THANK YOU to the Visitor to Lagos State University, Mr.Babajide Sanwo-Olu (Lagos State Governor) and Mr. Wahab Tokunbo (The Special Adviser on Education to the Lagos State Governor) for making Education one of utmost theme of the administration and making Lagos state students proud to be Frontiers of Excellence.
With high respect and magnitude of honor we hope the Vice-Chancellor consider this review. Thank you.
Best Regards!
Bello Oluwasegun
Lagos State University
+2348148615825