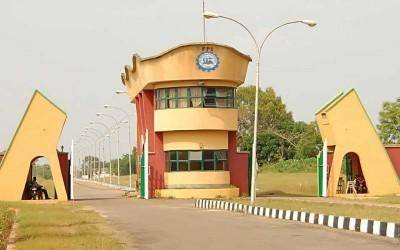 This is to inform all applicants of federal polytechnic, ilaro that the management of the school has released its 2020/2021 ND FULL TIME Admission List.
CHECK THE LIST HERE:
2020 -2021 ND FULL TIME FIRST LIST_1610973513
2020/2021ADMISSIONS
PAYMENT OF ACCEPTANCE FEE
ALL CANDIDATES OFFERED ADMISSION IN THE 2020/2021
SESSIONF OR FULL TIME NATIONAL DIPLOMA(ND)
PROGRAMMES ARE TO PAY AN ACCEPTANCE FEE OF
THIRTY THREE THOUSAND SEVEN HUNDRED NAIRA
(N33,700.00)ONLY
REGISTRATION PROCEDURE
CANDIDATES ARE TO CHECK THE INSTITUTION'S WEBSITE
FOR DETAILED INFORMATION ON REGISTRATION
PROCEDURE.
N.B
All the candidates offered Admissions should goto JAMB Website to do
the following:
1.Accept the admission offer.
2.Print JAMB admission letter.
3.Print JAMB result.
THE DEADLINE FOR THE PAYMENT OF ACCEPTANCE FEE FOR ND
FULL TIME FIRST LIST IS FRIDAY 31STJANUARY,2021
Please Note: No candidate will be able to pay acceptance without
fulfilling all the Jamb requirement.
GUIDELINES FOR PAYMENTS AND REGISTRATION
All Admitted Candidates are to visit the Polytechnic website www.federalpolyilaro.edu.ng
✓Click on check admission status by using your application Number and RRR number used to obtain the form or screening results.
✓Click on Generate invoice/make payment of Acceptance Fee.
✓Print the invoice generated and proceed to any of the designated bank for Payment.
✓After The Payment Of The Acceptance, candidates should go back to the Portal
and input the RRR number to print the School Admission Letter and Acceptance
Fee receipt.
✓Proceed To The College Portal To Generate School Fees Invoices Forced To
any of the designated bank for Payment.
✓Input There Number I Gained For The Payment Of School Fees To The
School Fees Receipt.
✓Complete The Bio-data and fill the Course Registration forms.
✓Matriculation number is assigned after payment of school fees.
✓Fill in other credentials and other information e.g Certificate of Local Government/State Of origin, Birth Certificate etc
✓Fill in the appropriate courses for the session.
✓Print hard copy of the course registration form filled online and submit Four(4)copies alongside other relevant documents ( SSCE, Certificate Of Local Government Origin,Birth Certificate For Students)While The HND Students add Certificate of completion of One Year Industrial Attachment and ND
Notification Of Results.