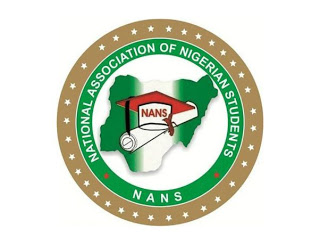 COUNCIL OF NIGERIAN STUDENTS' UNION PRESIDENTS
Press Release
TODAY BEING WEDNESDAY 7TH OCTOBER, 2020; COUNCIL OF NIGERIAN STUDENTS' UNION PRESIDENTS – an Umbrella Body comprising all the current constitutional legitimate SENATORS OF NANS across NIGERIAN TERTIARY INSTITUTIONS do hereby announce that we have reached the following NINE (9) decisions at our VIRTUAL MEETING held by 8:30 PM on TUESDAY 6TH OCTOBER, 2020:
1. THAT the Current leadership of NANS has overstayed their CONSTITUTIONAL DURATION hence we call on them to fasten the convention process.
2.THAT the Current leadership of NANS across all ZONES have derailed from the core value (s) of this association hence we call on them to have a rethink and support genuine course to bring back NANS to Nigerian students on campuses, or face the wrath of our vote of no confidence.
3. THAT the current CPC list should be dissolved, because, it does not in any way represent the interest of Nigerian Students as majority of its members are non students, a new one should be released with immediate effect by the Senate President – Comr. Sen. Gambo Abubakar Mohammed with current students on the list.
4. THAT all Aspirants should provide their Studentship status with proof of the recent tuition payment, students Portal, 2019 result and letter of admission from either Jamb or NUC admission letter for Postgraduate students only; and that such documents must be duly approved, signed and upheld by the Students Affairs Unit alongside Union President of the said school, if not such candidacy is null and void.
5. THAT only the current legitimate Senators (SUG PRESIDENTS) from all the Institutions under NANS should be verified as the legitimate electorate of NANS during the CONVENTION; and that any other arrangement to boycott the constitutional senators' active participation is null and void.
6. THAT the next Senate President of NANS must be a current serving Union President of an approved school.
7. THAT each Aspirants especially Presidencies must sign a peace accord draft with the COUNCIL OF NIGERIAN STUDENTS' UNION PRESIDENTS to accept the result of the convention not allowing him or herself to be used as a factional Leader (President) of NANS thereafter the Convention.
8. THAT any candidate who is not satisfied with the outcome of the Convention should only use legitimate means available to seek redress from us.
9. THAT the Convention should and must be violence-free, fair and credible. AND that no other security agencies apart from THE FEDERAL SECURITY AGENCIES OF NIGERIA should be allowed at the Convention Ground.
Copied To The:
OFFICE OF THE PRESIDENT, FEDERAL REPUBLIC OF NIGERIA
OFFICE OF THE DIRECTORATE OF THE STATES SECURITY (DSS)
OFFICE OF THE INSPECTOR GENERAL OF NIGERIAN POLICE (I.G.P)
OFFICES OF THE PRESIDENT OF THE SENATE AND THE SPEAKER HOUSE OF REPRESENTATIVE OF NIGERIA NATIONAL ASSEMBLY
MINISTRIES OF EDUCATION, YOUTH AND STUDENTS AFFAIRS
ALL THE NIGERIAN STUDENTS' UNION BODIES (NANS, SUG/SRC) ACROSS NIGERIA AND BEYOND
ALL OTHER UNION BODIES
TO WHOM IT MAY CONCERN
SIGNED ON BEHALF OF THE COUNCIL OF NIGERIAN STUDENTS' UNION PRESIDENTS ARE THE FOLLOWING ZONAL REPRESENTATIVES:
ZONE A
1. Comr. Abubakar Ali, SUG President, Ahmadu Bello University, Zaria
+234 703 035 3383
2. Comr. Mu'awuya A. Ciroma, SUG President, Umaru Musa Yar'dua University Kastina
+234 810 418 8801
Zone B
1. Comr. Raymond Moses, SUG President, University of Calabar
+234 816 343 8011
2. Comr. Ugochukwu Anichukwu, SUG President, Institute of Management & Technology, Enugu State.
+234 814 305 4995
ZONE C
1. Comr. Oladoja Habeeb Olawale, SUG President, University of Abuja.
+234 815 538 9997
2. Comr. Olorunmagba Kehinde, SUG President, Federal University of Lokoja
+234 907 073 1320
Zone D
1. Comr. Obagunwa Oluwasegun, SUG PRESIDENT, Adekunle Ajasin University, Akungba Akoko, Ondo State
+234 813 234 5436
2. Comr. Soneye Abdul-Azeez Lekan, SUG PRESIDENT, Tai Solarin University Of education, Ogun State
+234 810 272 1959
SEE THE MEMO BELOW