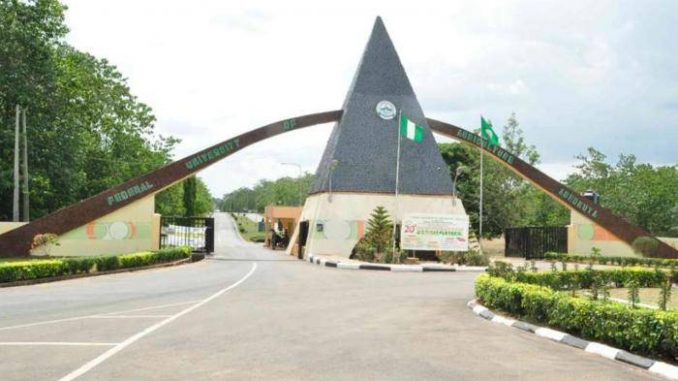 To be eligible for consideration candidates must have sat for the 2020/2021 Unified Tertiary Matriculation Examination (UTME) and scored a minimum of 180 marks for the following programmes:

Agricultural Administration
Agricultural Economics and Farm Management
Agricultural Extension and Rural Development
Animal Nutrition
Animal Physiology,
Animal Production and Health
Aquaculture and Fisheries Management
Animal Breeding and Genetics
Agricultural Administration
Crop Protection
Environmental Management and Toxicology
Forestry and Wildlife Management
Horticulture
Pasture and Range Management
Plant Breeding and Seed Technology
Plant Physiology and Crop Production
Soil Science and Land Management
Water Resources Management and Agro-meteorology

Or a minimum of 200 marks for the following programmes:

Biochemistry
Biological Sciences
Chemistry
Microbiology
Computer Science
Mathematics
Statistics
Physics
Food Science and Technology
Home Science and Management
Hospitality and Tourism
Nutrition and Dietetics
Agricultural Engineering
Civil Engineering
Electrical and Electronics Engineering
Mechanical Engineering
Mechatronic Engineering
Veterinary Medicine

DE Candidates

Direct Entry candidates, with minimum of Upper-Credit or its equivalent, who have also applied to JAMB for admission into the Federal University of Agriculture, Abeokuta (FUNAAB) are invited to register on this portal.

Candidates should ensure that their Academic Transcripts are forwarded to the Registrar, FUNAAB not later than Friday, 16th October, 2020.

Eligible candidates are to access the Federal University of Agriculture, Abeokuta FUNAAB Admission Portal, click on "Apply for Admission" and enter their JAMB UTME or JAMB Direct Entry Registration Numbers to generate and print out their Application Invoice which states their Reference Number and other information on payment of a non-refundable fee of Two Thousand Naira (₦2,000.00) only, excluding processing charges.
Candidates should proceed to any Bank accepting REMITA payment (nationwide) or Online using debit card or via Internet Banking and make payment of the prescribed fee using the REMITA Reference Number.
After payment, candidates are to proceed to FUNAAB Admission Portal and complete the e-application form as appropriate.
Application opens on Monday, 7th September, 2020 and closes on Friday, 16th October, 2020..
Candidates are required to correctly input their Bio-data, O'Level results, OND/HND/NCE/A-Level/IJMB/JUPEB results (where applicable) and upload a recent coloured passport photograph (not more than 6 months old).
On uploading of all required details, candidates are expected to first preview and confirm the entries before clicking on Submit on the acknowledgement page.
Candidates should thereafter print out the Application Form displaying their passport photograph.
Correction of wrongly entered data attracts a fee of One Thousand Naira (₦1,000) only as penalty and can be effected online not later than the closing date of the application. Click here for details.
No complaint of wrong Bio-Data, O'Level results, OND/HND/NCE/A-Level/IJMB/JUPEB results or blank picture would be entertained thereafter.
Candidates who up-load wrong Bio-Data, O'Level results and UTME/OND/HND/NCE/A'Level/IJMB/JUPEB results will be automatically disqualified.
NOTE:
DE candidates are further expected to have submitted their transcript not later than Friday, 16th October, 2020 and can check their Transcript Processing Status for verification.
All correspondence and enquires on this Admission Exercise should be directed to 08060064656, 08129775690 or e-mail: registrar@funaab.edu.ng or admission@funaab.edu.ng or helpdesk@funaab.edu.ng.